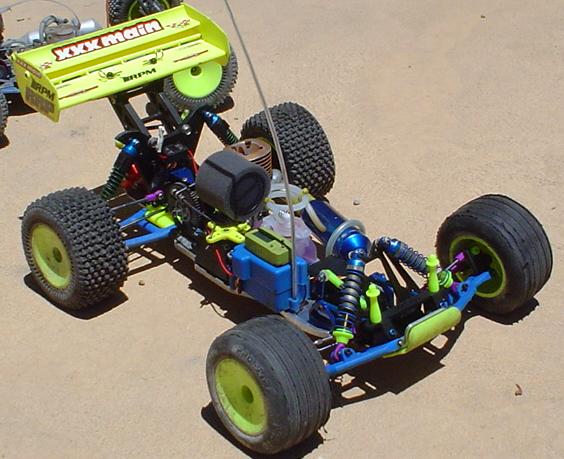 Welcome To Wallis Racing
This site has been build for the sole purpose of Radio Controlled Cars/Trucks. On the various pages of this site you will find tips, tricks, pictures, recomendations, links and much more R/C stuff.
So sit back and feel free to roam around the different pages and i hope you find something that tickles you fancy =)

ENJOY!!
Want your ride on my site?
If you want ur ride in the photo galleries then email the pics to me Email Me.
or
if your pics are on my site and you would like them removed, or would just like you name to be with the pics then also email me Email Me.


News
Check out my GT page for a heap of new pics.

DONT FORGET TO CHECK OUT MY NEW MOVIE! Juls creations has released his new movie featuring him, me and another GT. Fly on over to the Movies Page to download it now!

I have a Losi Mini-T! Check it out in my trucks section, or click here.

Am getting a RB Concept V15T in the next few weeks! Over 2HP and over 45000 RPM! Cant wait!

My Racing Status
Check out the Racing Status page for info on how my first season went and to see how my second season of racing is going. I'm racing a RB Concept X12 Rear Exhaust Powered Team Associated RC10GT Factory Team Edition.

So check out all the details on the Racing Status page.


next race: seasons finshed, i'll let ya now!




Check Out:


For some sick ass movies
Got any Questions??
If you have any questions, tips, ideas, compliments, hate mail or love mail. What ever it is, simply......
...Email Me
News and Updates
2-1-04: Finaly got around to updating this place. check out my rides with all new pics and parts! gave the whole place a work over to get everything working.

6-1-04: Added link to Juls Creations new movie featuring his GT, my GT and some mates to my GT page and to the movie page. Few other slight mods.

19-1-04: Added new GT pics and pics of my new Mini-T. Also added pics of Gordz GT to my bash buddies pages.

Be sure to check back reguarly for more updates